Get ready with IELTS Ready: Premium
Get ready with IELTS Ready: Premium
Discover all the details of each module of the exam and how to prepare for IELTS questions.
One of the great commitments of the British Council is to help you learn English and achieve a good score on your IELTS test. To accomplish these goals and support you in your study methodology, we have created IELTS Ready: Premium, an online preparation tool with dozens of resources to help you deeply understand the modules and question types you will encounter in the exam. 
Here, we will explain what IELTS Ready: Premium is all about and how you can make the most of it to achieve optimal results.
What does IELTS Ready: Premium include?
IELTS Ready: Premium is a platform where you can prepare for the exam in an intensive and personalized manner according to your needs. You will have different study materials, expert feedback, and classes where you will explore in-depth the four modules of the IELTS: listening, reading, writing, and speaking. 
These are the tools and materials you will have access to if you enroll in IELTS Ready: Premium: 
40 practice exams:

With these examples, you will get to know the required skills for each module and the types of texts used in the exam exercises.

 

Question and answer models:

You need to know the types of questions in each module (multiple choice, short answer, sentence completion, etc.) and the main recommendations for answering them.

 

Masterclasses:

Lessons focused on the skills you need to develop to achieve a good score in the IELTS.

 

Practice exercises for listening, reading, writing, and speaking:

Each module is different in terms of duration, question types, and recommended strategies for completing them.
Thanks to these materials and interactions with experts, you will become familiar with the exam structure and feel more confident in your responses. 
Access to IELTS Ready: Premium is free for all those who register for the exam through the British Council. After registering, you can access the platform to get all the support materials for your IELTS exam.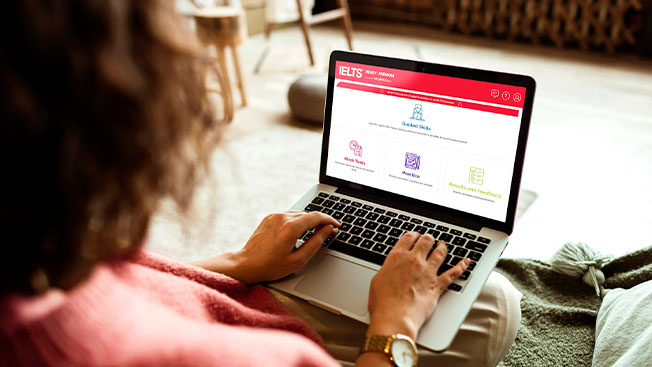 How will enrolling in IELTS Ready: Premium help you? 
Comments and feedback from IELTS experts:

When you write, speak, or interpret in English, it will greatly benefit you to have an external person review and identify your strengths and weaknesses.

 

Plan, schedule, and study at your own pace:

You can prepare for the IELTS at your own pace by creating a study schedule for each module and tracking your progress.

 

Different mock exams

: One of the most practical ways to prepare for the IELTS is to take the sample tests provided by the British Council. If you are familiar with the exam, you will have more confidence. Additionally, you will be able to progress more quickly in each module, allowing you extra time to review each answer before submitting the test.

 
Enter here and take the IELTS with British Council Canada.
Related articles: